Parker University Library
Building use 6:30A-11P, 24/7 Library Staff through Chat service
Item request has been placed!
×
Item request cannot be made.
×
Processing Request
When performing book repair, it is not uncommon to have to replace the end sheets or reinsert pages that may have fallen out.  Some patterns are so popular that decades later you can still find the same paper for an end sheet.
It is also a stark reminder of how much aging and damage books sustain over the years.  If pages need to be added back in, you must first support the text block so there is no undue stress, then the pages can be "tipped in" using a special type of adhesive. 
This particular type of adhesive uses a heating tool to bond the pages together.
When there are no parts of the original cover that are salvageable, then the title must be added on to the new cover the old-fashioned way.  Here are some process photos of the typeface that was selected and the words being stamped onto the spine.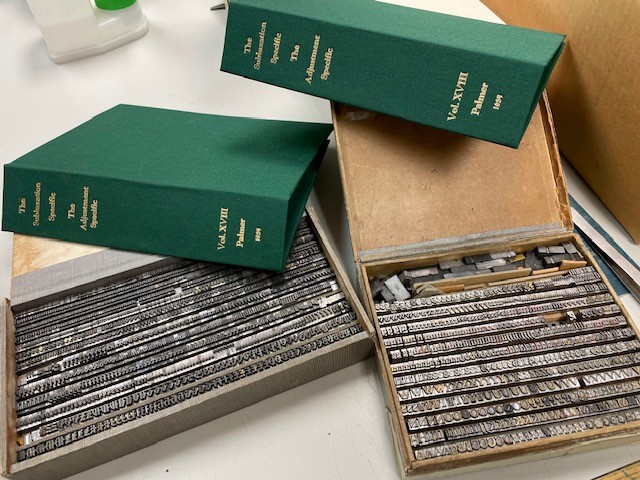 No two book repair projects are the same, and each requires a different amount of care and consideration for how the repairs will be completed.