Parker University Library
Building use 8A-4P, 24/7 Library Staff through Chat service
Item request has been placed!
×
Item request cannot be made.
×
Processing Request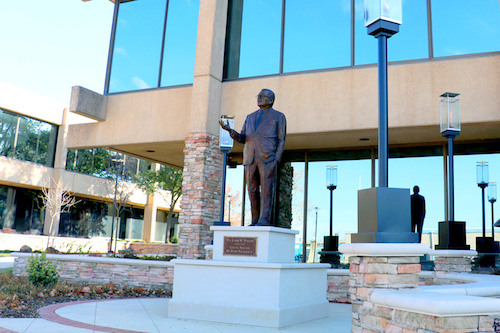 LIBRARY RESOURCE CENTER
The Parker University Digital Library supports students, faculty and staff through appropriate and adequate learning and information resources to facilitate lifelong learning, research, and service. After the tornado of October 2019 and the redesign of the South Building, the Parker Library was relocated to the South building and expended into a modern Learning Commons with 25,826 square feet of educational space. The newly designed South Building is now the centerpiece of the campus with the Parker Library right in the heart of it. The South Building is a true Learning Comons which provides library and learning information resources, including skills and simulation labs, flexible learning and study spaces, tutoring services, research support, and the center for Teaching and Learning. Throughout the construction of the new facility, the University library continued to support students by providing a very appropriate mix of physical and electronic resources, such as computer labs, study rooms, anatomical models, evidence-based literature materials, full-text journal collections, and over 375,000 electronic books. All electronic resources can be accessed remotely. 
RESEARCH CAPABILITY
The Parker University Library Resource Center has nation-wide borrowing and computer research capabilities.  Interlibrary loan is available to faculty and students.  The library participates in cooperative agreements through Online Computer Library Center (OCLC), TexShare, HealthLINE, Chiropractic Library Collaboration (CLC), American Library Association, Medical Library Association (MLA), Southern Chapter of MLA, Texas Library Association, and Association of Chiropractic Colleges Educational Conference and Research Agenda Conference. Parker Library resources may be accessed through the web based SirsiDynix online catalog, Stacks Mobile app and website.  EBSCO's Discovery Service, provides an integrated search that allows users to simultaneously search EBSCO databases as well as all other electronic resources.  EBSCO's Full Text Finder supplies access to full-text journals and eBooks, and EBSCOhost searches databases. ProQuest databases provide a single source for scholarly journals, newspapers, and reports with a concentration on business related topics. The Library is now available through a 24/7 chat service located on the Library website.   
MISSION
Create an environment that is responsive to the individual's information needs for teaching, learning, research, and healthcare by providing quality resources, facilities, resource sharing, and instruction.
VISION
Develop, maintain, and sustain the library collection in all formats.
Maintain library facilities, equipment, and software.
Provide a library collection in all formats that meets the needs of library users.
Support research, networking and cooperative resource sharing agreements.
SACSCOC ACCREDITATION
Parker University is accredited by the Southern Association of Colleges and Schools Commission on CSAColleges (SACSCOC)  to award certificates, associate, baccalaureate, masters and doctorate degrees. Questions about the accreditation of Parker University may be directed in writing to the Southern Association of Colleges and Schools Commission on Colleges at 1866 Southern Lane, Decatur, GA 30033-4097, by calling (404) 679-4500, or by using information available on SACSCOC's website