Item request has been placed!
×
Item request cannot be made.
×
Processing Request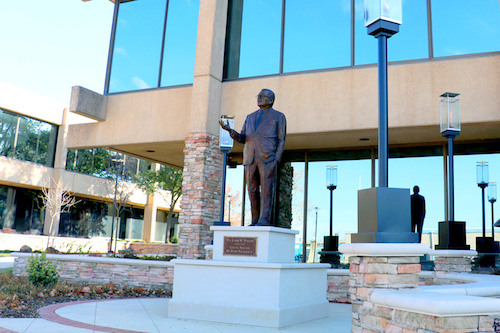 Library Resource Center
The Library Resource Center of Parker University includes seventeen study rooms each with computers, monitors and black dry erase boards. Also available are twelve study carrels, two enclosed computer rooms with three printers, two media rooms, an anatomical model room, a reserve collection and copy room. The Library collection consists of over 18,000 books, archival materials, e-Journals, databases and non-book resources such as DVD's, CD's, and anatomical models. The SirsiDynix online catalog is web-based and allows patrons to view status and location of Library resources while on and off-campus.  Library staff will assist users with database information and searching.  Students can contact the library through asklibrary@parker.edu, via phone or walk-in. The Information Services Desk is available and adjacent to the library for technical assistance.
The Library collection contains resources including the Basic Sciences, Chiropractic Sciences, Massage, Alternative Medicine, Nutrition, Radiology and Business resources. Nearly 250 assembly lectures, commencements, and seminars including the founder, Dr. James Parker are available to Parker students through DVD. The Library houses curriculum and evidence-based resources through predominant vendors including EBSCO, ProQuest and OVID. Recent acquisitions include evidence-based resources "The Cochrane Collection Plus" and "DynaMed Plus".   Resources can be searched through EBSCO's Discovery which provides an integrated search.  Access to the Mango language database contains modules with over seventy-one languages.
Mission
Create an environment that is responsive to the individual's information needs for teaching, learning, research, and healthcare by providing quality resources, facilities, resource sharing, and instruction.
Vision
Develop, maintain, and sustain the library collection in all formats.
Maintain library facilities, equipment, and software.
Provide a library collection in all formats that meets the needs of library users.
Support research, networking and cooperative resource sharing agreements.
Accreditation
The Parker Library is accredited by SACS (Southern Association of Colleges and Schools).  Accreditation is also maintained with CCE (Council on Chiropractic Education).  All requirements for both accrediting agencies are followed explicitly in maintaining facilities, resources and staff with appropriate standards.